Grow your own organic vegetables!
Our Plant Grow Bag comes with large observable window, through which you can check the growth of your veggies and easily harvest. The sturdy handles let you move around the bags that filled with soil. No more mess when gardening!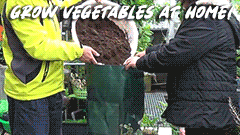 Made of thickened nonwoven fabric, durable and sturdy. At the same time, the bags do not retain excess water, allowing your roots to breathe and grow healthily!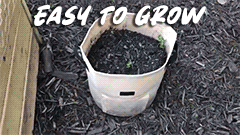 It can be used to plant potato, tomato, taro, radish, carrots, onions, peanut, and more. You can repeat planting another vegetable or simply fold to store it. Washable and reusable for many other uses, such as a laundry bag or the storage for your vegetables!
Easy Harvesting At Home!
FEATURES:
Visualization Window for Inspection
With the visualization velcro window design, you can observe the growth of your plant and harvest your vegetables through the window easily. No need to pour all the soil out or damage your plant.
Breathable Fabric
These grow bags are made of sturdy material, allow roots to breathe and grow healthier, and make plants have really thick stems and healthy roots.
Sturdy Handle Design
You can easily move the grow bag even with soil inside by holding the handles. Hold the weight well and never get ripped!
Wide Application
Suitable for indoor and outdoor planting, such as home gardens, balconies, patios and sunrooms. Can be used to plant the potato, taro, garlic, radish, carrots, onions, ginger, peanuts, and many other vegetables.
Foldable & Reusable
The grow bag can be folded to tidy up after the growing season, not taking up much space. It is washable and you can re-use it as a laundry bag for dirty clothes or storage for tools etc.
Fresh & Organic
Grow your own organic food for your family! It's completely chemical-free and hard work must make your vegetables taste better!
SPECIFICATIONS:
Size: 30x30cm/ 35x35cm/40cmx40cm
Material: sturdy material
PACKAGE INCLUDES: